What were the changes in the positions of the major speculators in the latest Commitment of Traders Report?
Purpose of the CoT Report
The CoT Report refers to the trading positions of notifiable market participants in futures transactions. The aim is to create transparency about the positions in the form of a list of the open interest, i.e. all open futures and options contracts. Every Friday, the positions that exist on Tuesday evening after the close of trading are published. Thus, traders can anticipate statements about the "positioning" of large market participants. (in detail: here)
The most important changes in the major speculators in the past week
According to the latest data, the net long position of the large speculators in the EUR future was again increased by a good 4,000 contracts; the total position of the large speculators is thus currently a good 104,000 contracts net long according to the latest data. The upward trend in the positioning of large speculators since the interim low of mid-April at 67,000 contracts thus continues. The professional speculators continue to bet on the European single currency against the greenback.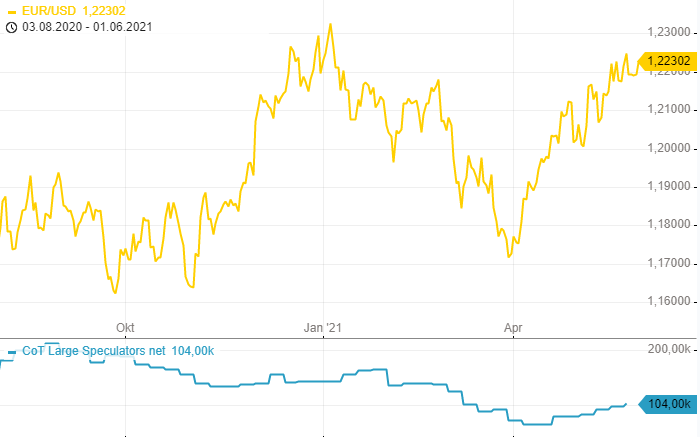 In the gold future, the net long position of the large speculators was further increased by about 15,000 contracts compared to the previous week.
The total position on the long side is thus again well over 200,000 contracts. The precious metal cracked the 1,900 mark in recent days and is currently trying to establish itself above this mark.
In GBP futures, the net long position of 25,000 contracts in the previous week was once again increased by about 5,000 contracts to 30,660 contracts net long. GBP/USD itself climbed at times in the morning to the highest level since 2018 before profit-taking set in in the morning. Here, too, the "large speculators" are on the right side.