Investing
Crypto Adoption is Highest in Asian Countries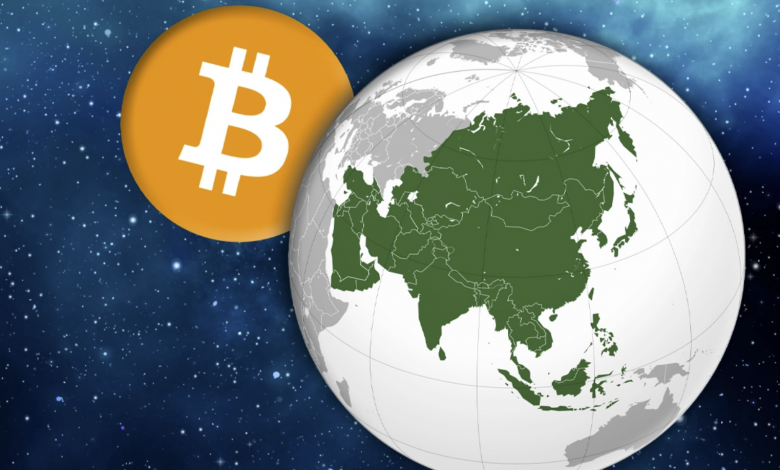 The three countries with the highest crypto adoption in the world are in Asia. But what is the reason for this?
Despite the Chinese central bank's ban on any cryptocurrency-related transactions, crypto adoption is booming in Asia. Oceania, Central and South Asia (CSAO) is the fourth largest crypto market in the world, according to the report by Chainalysis. Between July 2020 and 2021 alone, more than $572.5 billion was transferred in cryptocurrencies in this region. This represents 14 percent of global transaction volume.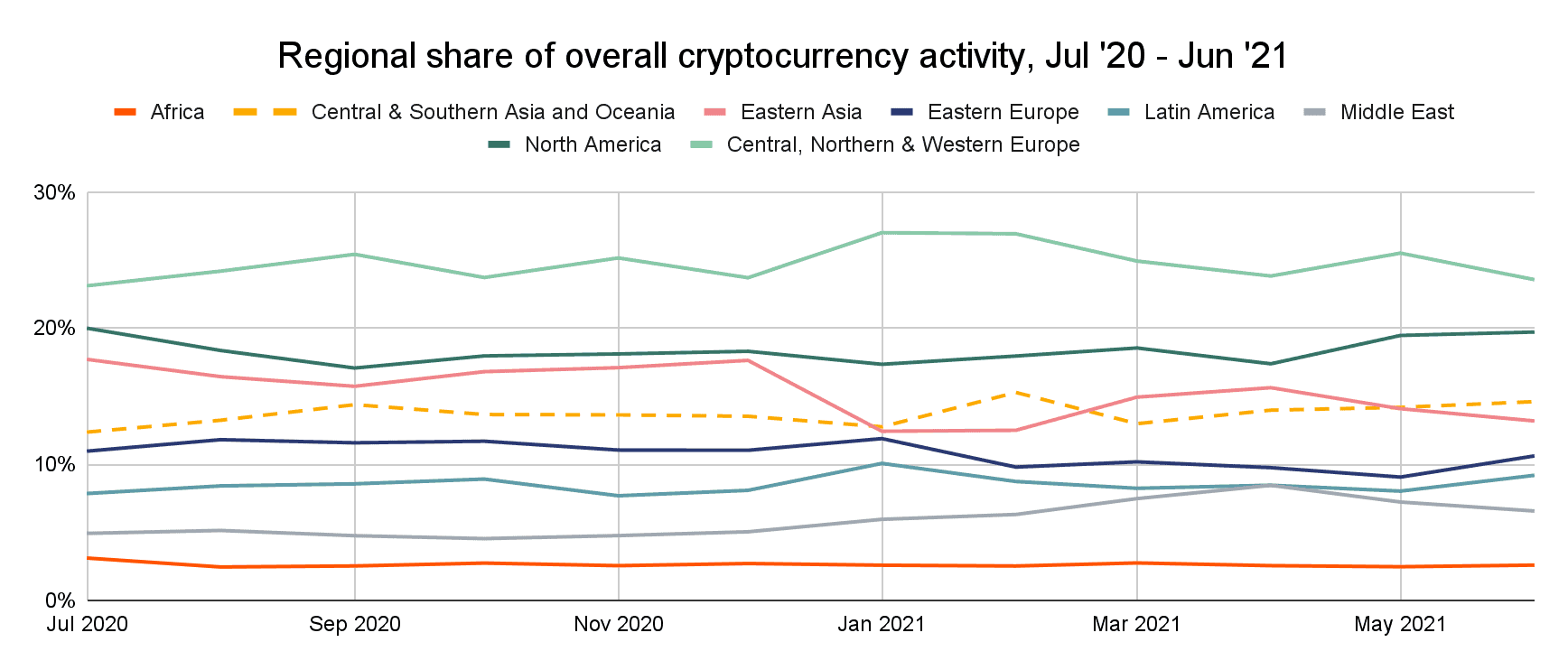 Compared to the previous year, this represents a growth of 706 percent. While this still leaves the region just behind the transaction volume growth rate in Central, Northern and Western Europe, Asia is home to three of the highest crypto adoption countries in the entire world.
Why is crypto adoption in Asian countries so high?
Apparently, much of the growth in Asia has been driven by a few key countries. Asia is home to Vietnam, India and Pakistan, the three countries with the highest crypto adoption in the entire world. Other countries that also have high crypto adoption include Thailand and the Philippines.
As with other regions, Asia has seen a huge increase in Decentralized Finance (DeFi) transaction volumes over the past year.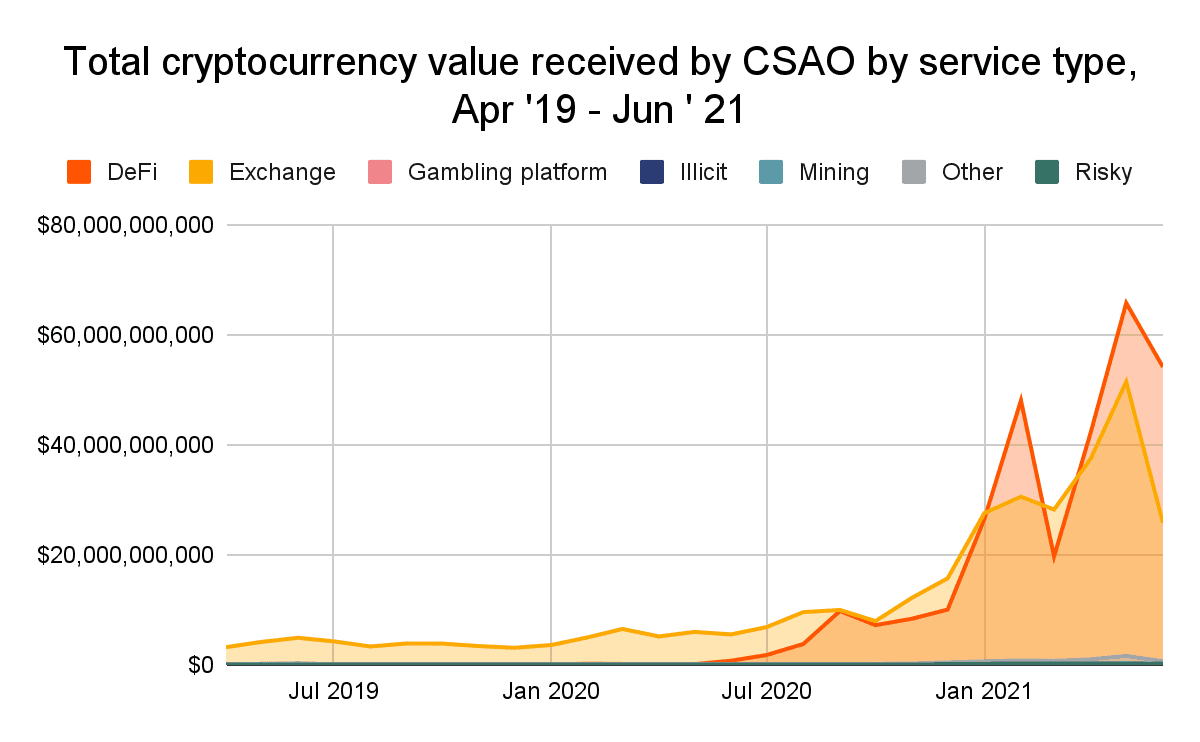 From around May 2020, the DeFi sector's share of the region's total transaction volume jumps. In February, it even rose above 50 percent. Uniswap (UNI), Instadapp (INST) and dYdX (DYDX), Compound (COMP), Curve (CRV), Aave (AAVE) and 1inch (1INCH) were primarily responsible for the increased transaction volume.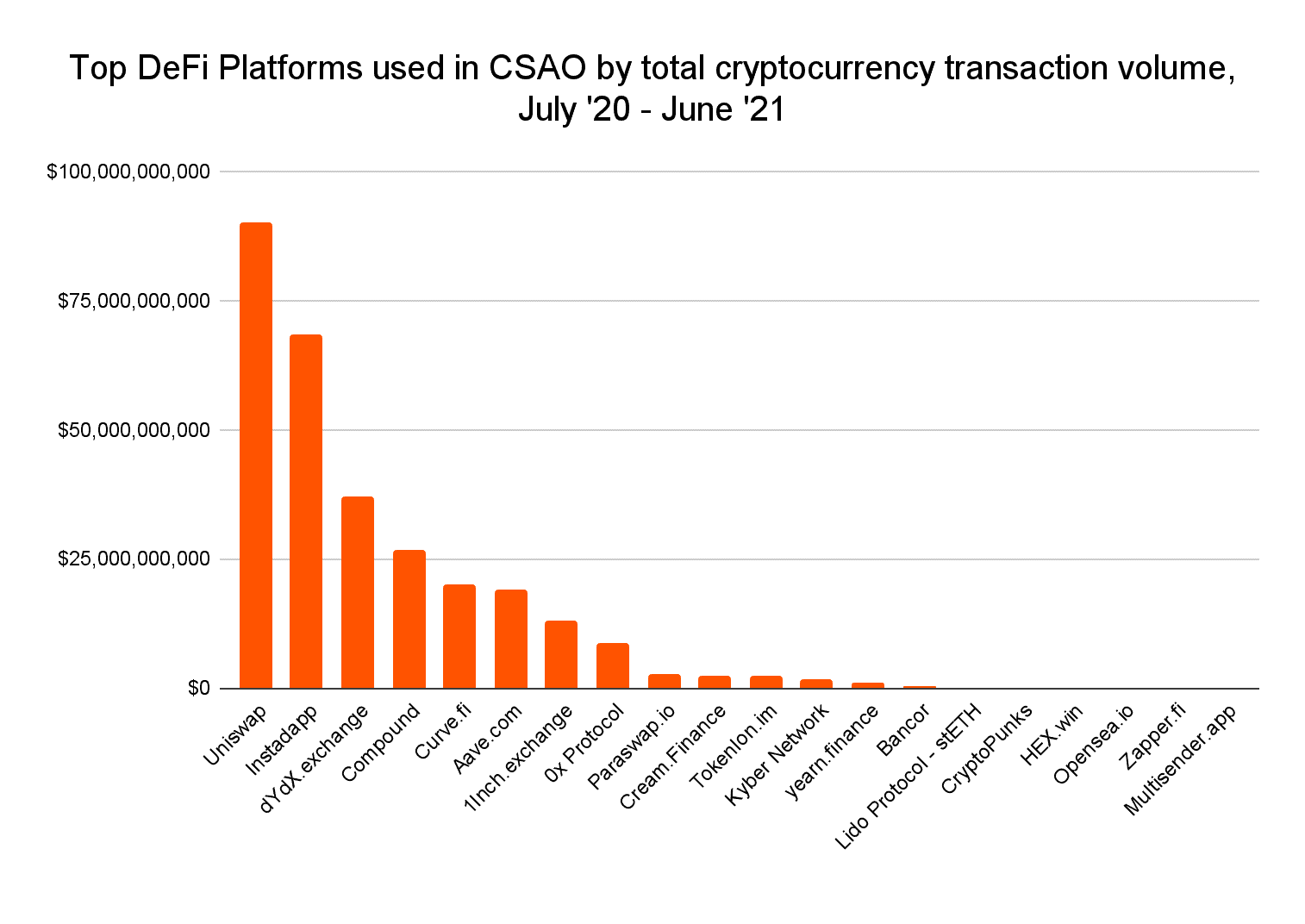 One possible reason for the high uptake in CSAO region is the high proportion of people with inadequate financial inclusion. Of the approximately 1.7 billion unbanked people worldwide, 290 million are in Southeast Asia. In the Philippines, for example, 71 percent of adults do not have access to a bank account. In total, that equates to just over 51 million people.
In addition, India is the country with the second-highest absolute number of unbanked people after China, according to a 2017 World Bank report. Some 190 million of its nearly 1.4 billion people lack access to the financial system. In Pakistan, too, around 100 million of the 220 million inhabitants do not have a bank account.
20 percent of all MetaMask users are from the Philippines
Just recently, the team at crypto wallet MetaMask announced that their monthly user base has grown by 1,800 percent year-over-year. Moreover, a total of 20 percent of their 10 million active monthly users would be from the Philippines. This is likely mainly due to the fact that Axie Infinity (AXS) has been extremely successful in the Southeast Asian country. The game, which is based on non-fungible tokens (NFT) and blockchain technology, is extremely popular there and is currently the largest play-to-earn game.
Wallets such as MetaMask have led to a significant portion of total crypto transaction volume being transacted through decentralized applications (dApps). Chainalysis' report shows that DeFi applications are responsible for nearly 50 percent of total crypto transaction volume in the CSAO region.
In fact, the volume settled via DeFi has surpassed that of centralized exchanges several times in recent months. The Chainalysis team suspects that this is mainly because centralized exchanges are becoming increasingly inaccessible to users in this region due to uncertain regulations. In DeFi Space, on the other hand, citizens of these countries have entirely new ways to manage their money that their own financial systems cannot offer them in this way.
In DeFi, on the other hand, everyone can participate because it is an uncensored system that is freely accessible to everyone. In conclusion, NFT Gaming in particular and the poor access to the traditional financial system are responsible for the fact that more and more people in the CSAO region are currently flocking to the crypto-sapce.