Investing
Post-Covid: New Investment Opportunities in Emerging Markets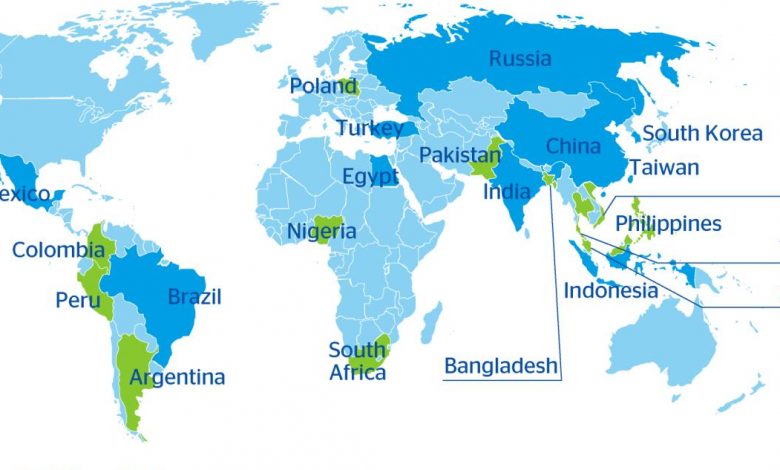 The competition between China and the U.S. is bringing new investment opportunities in emerging markets.
China's economic and political power has grown to such an extent that it is challenging the global supremacy of the United States. This is causing relations between the two countries to deteriorate and rivalry to intensify. This increases the potential for conflict. But could this move toward a new power structure also bring potential benefits to emerging markets that investors could take advantage of?
I believe that emerging markets will benefit from the positive spillover effects once the U.S. and China boost their own economies 'post-covid' to outperform each other.
Although relations between the U.S. and China are likely to remain strained, I expect the increasing competition between the two superpowers and the move toward a new power structure to benefit emerging economies, as long as it is managed properly. For example, countries with trade ties to the U.S. and commodity exporters will benefit from Biden's infrastructure plans. China, currently the world's largest growth driver, will support other countries in trade, financially, in credit, investment, and trade opportunities as it becomes their most important economical partner.
Several factors that will boost the emerging markets in the future:
Increased funding opportunities for emerging markets
In the past, funding for developing countries has been provided mainly by the International Monetary Fund and the World Bank, often under the condition of economic reform and austerity. But several of these countries are now receiving alternative funding and opportunities from China, as the country finances projects as part of its international infrastructure developments. In general, China has financed projects in emerging markets with a less active role than the IMF in terms of structural and economic reform conditions. The IMF has also provided more flexible and faster financing options for emerging markets during the Corona crisis and recently increased the SDR (special drawing rights) allocation by $650 billion, which will benefit a number of developing countries in the future. This has widened the range of funding options for emerging markets.
Emerging markets will benefit from China's future growth
China's latest five-year plan is very ambitious, aiming for a modern economy by 2035. This will provide sustainable positive trade outlook for China's traditional ASEAN import partners.
China's trade influence will also increase with the construction of the new Eurasian Land Bridge, a 12,000 km route of connected rail corridors through the Middle East, Russia and emerging Europe, as well as its Belt & Road Initiative (BRI), often referred to as the "New Silk Road." The increase in trade will bring benefits to emerging economies along these routes. This is also associated with significant foreign investment by China.
The U.S. provides short- and longer-term stimulus.
Emerging markets could benefit in the short term – depending on how U.S. consumers spend their stimulus dollars. If more is spent on goods than services, emerging economies with strong trade ties to the U.S. could benefit significantly. In Latin America, for example, the economies of Mexico and Brazil could receive a "Biden boost" of 0.5-1.0 percentage points (PPs) and 0.25-0.75 PPs, respectively. Mexico is the largest U.S. trading partner and Brazil signed a bilateral trade agreement in November 2020. Countries in Asia dependent on U.S. trade, with large export markets such as Vietnam and Thailand, and Asian companies that play a role in supply chains to the U.S., will all benefit significantly.
In the longer term, emerging markets will benefit from the $2.3 trillion infrastructure program that Biden has announced for the next decade. The U.S. will need to import many raw materials and base metals for physical infrastructure spending. This includes $80 billion for trade and freight rail, which should give a boost to copper exports from Mongolia, Zambia and Chile. Brazil, the largest foreign supplier of iron ore to the U.S., will benefit from the $115 billion earmarked for roads and bridges. The same applies to South Africa, whose iron and steel exports to the USA are likely to rise.